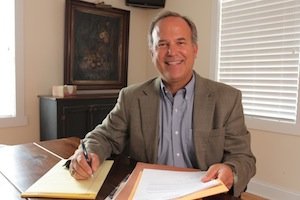 Mark C. Hartsoe
Mark Hartsoe graduated from the University of Tennessee College of Law in 1985. Mr. Hartsoe was admitted to practice law in the Commonwealth of Virginia in 1985 and in the State of Tennessee in 1991. He is admitted to practice before the Sixth Circuit Court of Appeals and the United States Supreme Court. Mr. Hartsoe began his career as a Special Assistant United States Attorney litigating environmental cases in federal courts throughout the southeast. Mr. Hartsoe prosecuted these cases in Southwest Virginia, Eastern Kentucky, Northern Alabama and East Tennessee. Hartsoe also served as Deputy Law Director for the City of Knoxville, Tennessee and has litigated eminent domain cases on behalf of the State Attorney General's office as an Assistant Attorney General.
Following his public service, Mr. Hartsoe was a Senior Partner at the Knoxville law firm of Butler, Vines & Babb, P.L.L.C. for ten years. Throughout the ten year period, Hartsoe was one of the firm's top two producers. Hartsoe developed an interest in birth injury cases as well as trucking litigation, inadequate security and premises liability cases. After 27 years of practice, Hartsoe founded his own firm which had been a lifelong goal for him. Mark's practice emphasis includes truck and car wreck cases, premises liability cases, medical negligence and personal injury law.
He has been repeatedly selected as a Mid-South Super Lawyer since 2006. Compiled by Law and Politics Magazine, Super Lawyers features the top 5% of attorneys in Tennessee, Arkansas and Mississippi. The selection process, which is merit based, involves peer nomination with ballots mailed to 23,000 Arkansas, Mississippi and Tennessee lawyers, a blue-ribbon panel review and independent research on candidates (www.superlawyer.com). In 2008, Hartsoe was named a Fellow in the Litigation Counsel of America. The Litigation Counsel of America is a trial lawyer honorary society composed of less than one-half of one percent of American lawyers. Fellowship in the LCA is highly selective and by invitation only. Fellows are selected based upon effectiveness and accomplishment in litigation, both at the trial and appellate levels, and superior ethical reputation. The LCA is aggressively diverse in its composition. Established as a trial and appellate lawyer honorary society reflecting the American Bar in the 21st century, the LCA represents the best in law among its membership. In 2004, Mr. Hartsoe was certified as a member of the Million Dollar Advocates Forum for his multiple cases that resulted in verdicts or settlements in excess of One Million Dollars ($1,000,000.00). The Forum is recognized as the most prestigious group of trial lawyers in the United States. Membership is limited to attorneys who have won million and multi-million dollar verdicts, awards and settlements. Fewer than one percent (1%) of U. S. lawyers are members. Mr. Hartsoe was a long-time member of the Board of Governors of the Tennessee Association for Justice (formerly Tennessee Trial Lawyers) and member of the Circle of Advocates. Mr. Hartsoe is also a member of the American Association for Justice and usually attends its national meetings. Mr. Hartsoe is active in local bar associations and organizations. He is a Master of the Bench of the Hamilton Burnett American Inns of Court and is a member of the Knoxville and Blount County Bar Associations.
In addition to his law practice, Mark has been actively involved in the Knoxville and Maryville communities. He has served as a board member of the Foothills Land Conservancy for the past six years. Prior to that he was a board member of the Wellness Community (cancer support network). Hartsoe has been an Elder in the Presbyterian Church for many years. He is an avid vegetable gardener and enjoys fishing, bicycling and other outdoor activities. Mr. Hartsoe has been married since 1986 to Amelia Mahood Hartsoe and they have three sons. Hartsoe has coached all of his sons in soccer and baseball and can frequently be found cheering along the sidelines.
In June 2011, Hartsoe Law Firm, P.C. moved its Knoxville Office into the Hartsoe Law Building, conveniently located at 904 W Lamar Alexander Pkwy in Maryville, TN. The law building has plenty of parking and is located between the Knox and Blount County Courthouses. It is extremely easy to find with its location across from the Maryville TARGET, Lemon Grass and Aubrey's restaurants, Starbucks, and Kroger's to name a few. Look for the big sign out front.