Practice Areas
Injury Attorney Serving Knoxville and Surrounding Communities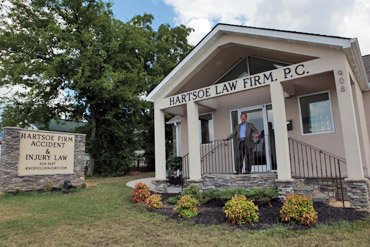 If you have been hurt in an unexpected accident, it is important to consult an experienced attorney. After an accident, the insurer for an at-fault party is likely to try to obtain an admission from you that will allow it to avoid paying the full compensation that you are owed. At the Hartsoe Law Firm, we provide responsive representation to victims who have been harmed by someone else's carelessness. Knoxville injury lawyer Mark C. Hartsoe has been repeatedly selected as a Mid-South Super Lawyer since 2006 and has been named a Fellow in the Litigation Counsel of America, a highly selective honorary society for trial lawyers.
Car Accidents and Other Motor Vehicle Collisions
All too often, a driver's carelessness leads to a devastating car accident. When someone fails to use a reasonable level of care behind the wheel, the victim may be able to bring a personal injury claim against the at-fault party, seeking compensation related to the wreck. This requires establishing the elements of negligence by a preponderance of the evidence: duty, breach, causation, and damages. There are many ways in which the duty to use reasonable care may be breached, including by failing to yield at an intersection, driving while intoxicated, texting while driving, or recklessly speeding, among others.
Tennessee follows the rule of modified comparative fault in car accident and other personal injury cases. The jury may determine the plaintiff's total damages and may also assign a percentage of fault to the parties alleged to be at fault, including the plaintiff. As a plaintiff, your total damages will be reduced by your percentage of fault. If you are found to be 50% or more at fault for a motor vehicle collision, you are barred from recovering any compensation. This makes it particularly important to enlist a knowledgeable car accident attorney like Mark Hartsoe. He can fight for your right to all of the damages that you deserve. These may include medical bills, lost income, property damage, the costs of future treatment, lost earning capacity, and pain and suffering.
Premises Liability
In Tennessee, property owners or occupiers owe different duties of care to people on their premises depending on whether they are considered business invitees, social visitors, or trespassers. A business invitee is someone who visits property for an event or transaction that benefits both parties economically. For example, the customers of a retail store or health club are invitees. They are owed the highest duty of care. Dangerous property conditions, such as a substance on the floor that could cause a slip and fall, must be repaired, or visitors must be warned about them.
Social invitees and licensees are invited onto another person's property for social reasons. A property owner or occupier cannot intentionally injure a social guest and must either repair a known dangerous condition or provide warnings about it. Trespassers are people who enter property without permission, and a landowner is obligated not to intentionally hurt an adult trespasser or set any trap for a trespasser. However, more extensive responsibilities may be owed by property owners to child trespassers.
Medical Malpractice
Unfortunately, health care providers do not always exercise the appropriate care that we expect from them. In order to win a medical malpractice lawsuit, you will need to establish that a health care professional, such as a doctor or nurse, breached the applicable standard of care while treating you. The standard of care is generally defined as the accepted practice for medical professionals in the same specialty as the defendant and in the same geographic area when faced with patients who present with a particular set of conditions. Thus, the standard may vary depending on the patient's medical history, age, gender, and other factors. Expert testimony and an attorney who is skilled in gathering it can be critical to asserting your rights.
Nursing Home Negligence
If you or a loved one is a victim of abuse in a nursing home or care facility, you may be able to recover compensation from that facility if its staff has neglected or abused you. When injuries such as bedsores, dehydration, malnourishment, or fractures occur due to negligence or intentional misconduct, a victim may be entitled to compensatory damages, including medical bills and pain and suffering, from those who committed the abuse as well as those who enabled or allowed the abuse.
Product Liability
A product liability lawsuit is brought when a defective device injures a consumer or someone else who used it. The plaintiff in this type of case must prove that the product was in a defective condition when it left the manufacturer or that it was unreasonably dangerous and that this caused the injury or death at issue. A product is considered unreasonably dangerous if it is more dangerous than an ordinary consumer would expect.
Wrongful Death
Some accidents tragically result in a needless loss of life, and this may give family members the right to seek justice from the responsible party. In Tennessee, a wrongful death case may be brought by certain family members or the personal representative of the decedent's estate. It is important to know that you can bring a wrongful death case even if the defendant was not convicted of any crime arising from the same conduct. The civil case is separate, but findings in the criminal case may have some impact in the wrongful death case, making it important to consult an attorney as soon as possible.
Discuss Your Injury Claim with a Knoxville Lawyer
If you have been injured as a result of someone else's negligence or misconduct, you may be able to recover a wide range of compensation. Call Knoxville injury attorney Mark C. Hartsoe at 865-804-1011 or contact us via our online form to set up a free consultation. We represent people who need a car accident attorney or representation in any other type of personal injury claim throughout Knox, Blount, Anderson, Campbell, Claiborne, Cocke, Cumberland, Fentress, Grainger, Greene, Hamblen, Hamilton, and Jefferson Counties.